Amy Stapleton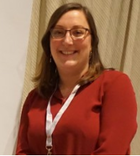 First name: Amy
Last name: Stapleton
Sex: Female
Homepage: https://www.linkedin.com/in/amy-stapleton-2b937873/
Small Abstract: I am a youth trainer, educator and project manager in human rights education, migration, social inclusion and participation with proven experience working on international, national and local commissioned projects.

I have ten years of professional experience working directly with marginalised communities, particularly at-risk children and young people, in these areas. For example, I co-founded and ran a local French youth organisation, developing a range of intercultural, participative and educational initiatives (including workshops and trainings) in the make-shift camps in Northern France, particularly with young migrants and refugees.

As a member of, and trainer with, Voices of Young Refugees in Europe, I am actively involved promoting young refugee rights and representing refugee organisations at a European level, regularly invited to participate in and develop trainings for international and European youth events.

I have proven expert knowledge of human rights, particularly the rights of children and young people, and migration. For example, I am currently completing an Irish Research Council funded, Participatory Action Research PhD study on migrant youth rights and welfare in Trinity College Dublin. My supervisor is Dr. Paula Mayock.

Since 2015, as associate editor of the Emerging Researchers Forum with the international journal AI & Society, I have been working to promote the increased participation of young researchers, particularly from developing countries and marginalised communities, within academia and policy making.

With a background in international development and policy and a masters in intercultural mediation, conflict resolution and migration, I have several years lecturing experience in applied social sciences, namely, interculturality, research methods, youth and migration studies.
Country of residence: Ireland
Working Languages: French , English
Curriculum Vitae (335.14 kB)